Times have changed since when romantic voyagers had no long-distance communications systems onboard and had to resort to messages relayed by passing ships!
During the last decade communications technology has evolved enormously, making available also to leisure sailors cost-effective and compact solutions that were previously affordable only by much larger - and wealthier - craft!
We still remember when, during our summer cruises not so many years ago, we had to queue at the rare phone booths which allowed international calls in order to give our news to family at home; nowadays the almost universal availability of cellular telephone services has solved the problem, at least for coastal cruisers.
Another major change of last years has been the advent of internet, both for e-mail services which represent an effective - and economical - alternative to phone calls, as well as for web access, useful for a thousand purposes (weather forecasts, on-line shopping, web-banking, etc.).
The new technologies have almost entirely supplanted the traditional - and very expensive! - telephony services over VHF or SSB-radio, which have been for decades the main ship-to-shore communication system.
Re-reading these notes I realise that the most used word in this page is "expensive"! In fact, this is the challenge: technology offers many solutions, we must find those that are affordable for us.
VOICE COMMUNICATIONS:
- phone booths:
Probably, only in some remote location we will have to resort to public phones due to the lack of any other facility.
It is nevertheless possible that land phones may be the more cost-effective solution for international calls, it will be worth checking tariffs!
- cellular telephones (GSM):
The introduction of the GSM system, now available almost everywhere around the world, has been a real revolution: a single telephone and a single subscription allow to make and receive calls almost anywhere.
Surely this will be our primary communication means when in port or near land.
It is important to remember that GSM uses 4 different frequency bands, of which one is used only in very few countries, some of which happen to be in the Caribbean!
For our voyage we therefore equipped ourselves with quad-band cell phones (nothing special, just commonplace Motorola's V3 Razr sets): all identical, including a spare one, to simplify the management of batteries, chargers, data-communications software, etc.
The real problem with cell-phones when travelling abroad, especially in faraway Countries like those we will visit, is cost: the international-call tariffs of mainstream operators are very high, and on top of that there are other "hidden" costs such as for SMS or Voice Mail (which implies two international calls plus possibly an SMS!); furthermore, in the GSM system the international part of a call is always paid by the mobile, even when receiving calls (including the unwanted ones)!
A possible partial solution would be to buy in each Country a local SIM card: besides allowing to call national phones at local tariffs, often these operators offer better tariffs for international calls, and received international calls are paid by the callers and not by the mobile.
Clearly, such a solution makes more sense for people spending some time in a Country, rather than few days; an additional problem is that each time family and friends should call a different number, not a very practical approach!
An alternative that we are investigating is to purchase a pre-paid SIM card from one of the several operators offering cheap international calls (like, among others, GYM SIM): generally tariffs are comparable with VoIP , and you get a telephone number (typically in Countries like Liechtenstein or Guernsey) through which you may be called by family and friends, irrespective of the Country where the mobile is.
The potential problem with these relatively new services is their reliability, which is reportedly patchy; a small risk anyway, as a prepaid SIM can be bought for few tenners.
- radio-telephony services (via VHF or SSB):
Over several decades MF/HF radio has been the only long-distance ship-to-shore communication method; bulky, complex and difficult to operate, in later years they have been complemented by the more compact and simple VHF sets which have become the standard short-distance communication system aboard ships as well as leisure craft.
Over a long period of time, the radiotelephone has been the only available means for ships to connect to the terrestrial telephone network: a call was placed to a coastal station, whose operator was dialling the phone number and then patch the two systems together; privacy was limited as everybody could listen to the conversation, and calling from land to the vessel was very cumbersome. Furthermore, subscription with an "Accounting Authority" which took care of the payments to the various involved parties was mandatory. The phone calls were fairly expensive, on top of the subscription price itself.
We have been subscribed to this service for over 30 years (only for VHF) but actually it's been more than 15 years since the last time we actually made a phone call through it! At last, since some years also in Italy it is not anymore mandatory to have a subscription in order to get a radio license, so when we sold Shaula Due we discontinued the subscription and never looked back.
This is a general tendency: cellphones when near land, and one of the various sat-phones when offshore have completely supplanted this old technology, which is being supported by less and less coastal stations.
Despite the above, radio is still the primary means of communication at sea, both ship-to-ship and ship-to-port.
In Italy a VHF radio is mandatory on leisure craft sailing offshore, but even if that was not the case, we would not dream of doing without it.
The situation is somewhat less straightforward for SSB radio (working on medium/short waves): ships still are requested to have them, but the advent of dedicated maritime satellite systems have to all practical purposes relegated radio to a backup role.
Why then we do have an SSB radio? It's mandatory for the Blue Water Rally, but there are other reasons as well:
- long-distance emergency calling (when out of VHF range)
- free chatting with other ocean-sailing boats (SSB radio is still very popular with them) as well as with the Blue Water Rally fleet
- low-cost reception and sending of e-mails (see below)
- reception of (free) weather forecasts and meteo-faxes
Radios for on-board use must be type-approved for maritime use and must be listed in the boat's "Radio Licence", which is one of the yacht's mandatory documents which may be requested at any time by local Authorities. Installing a non-type-approved radio is therefore a risk, although marine radios are much more expensive than, for example, Ham radios!
Since some years, new technical specification are in place for marine radio sets, both VHF and MF/HF, requiring the presence of the so-called DSC (Digital Selective Calling) functionality: in simple words, this means that every radio station is assigned a 9-digit number (called MMSI) which can be "called" by any other DSC-equipped radio (conversation then follows on one of the open voice-channels).
An important feature of the DSC system is the ability to send a distress alert at the simple push of a button; the message will include the yachts identification (the MMSI number), its GPS position and, optionally, the nature of the distress.
A problem which has been caused by DSC introduction is the need to get a new Radio Operator's certificate, and in Italy the procedure to get the new one, especially for SSB radio, is still unclear; in the end, I solved the problem getting the "Long Range Certificate" through an UK school: I used RT Training, based on the Hamble, near Southampton.
For what concerns the VHF radio set, we opted for the ICOM M601, which at the time was the top-of-the-range DSC-equipped set from Icom and could be equipped with a remote station ("commandmic") which we installed at the helm; unfortunately, at the time Icom did not have a type-approved SSB set for the European market, so we had to resort to an excellent but very expensive SAILOR 4500e, the only one amongst the three (!) available type-approved SSB radios which was of the "split" type, i.e. with a small command console separated from the actual, very bulky transceiver (which can be installed out of sight). Unfortunately, only 24V-powered versions were available, so we had to feed the radio through two professional-quality inverters, of which we had to keep a spare couple just in case!
In the meantime, Icom has introduced the new, type approved M801: had it been available at the time, we would certainly have adopted it!
- general-purpose satellite phones:
Since some years, several general-purpose satellite-based telephony services have been introduced on the market; initially very expensive and requiring bulky equipment, they have drastically gone down in price and size.
The bigger advantage of these systems is their user-friendliness, very much like common cell-phones.
Fundamentally, there are 3 systems to choose from:
- Thuraya, the cheaper for what concerns both terminal prices as well as service cost, has a coverage which is limited to Europe, Africa and the Middle East. An excellent solution for our usual Mediterranean cruises, but unsuitable for a circumnavigation.
- Globalstar, more expensive and with a world-wide coverage on land, which does not extend to middle-ocean, especially in southern Pacific.
- Iridium, re-born after an initial financial collapse, is the only one offering a truly planet-wide coverage at affordable prices.
Our choice has therefore been more-or-less unavoidably in favour of Iridium; at the London Boat Show I purchased a Motorola 9505A terminal and a pre-paid 500 minute SIM-card (at a price of about 1.5 US $ per minute).
The price per minute is not too bad (it's the same everywhere in the world) and is competitive with (and often much cheaper than) cell-phones, especially in the third-world Countries which we will visit.
The only problem is that the pre-paid SIM must be recharged at least once-per-year: the unused airtime is not lost and may be accumulated with the newly purchased airtime, but basically this means that you must spend at least 800 dollars every year. For the duration of the Blue Water Rally that's OK, but it is unlikely that we will keep the subscription "alive" after our return!
With hindsight, it's been good having purchased the set early in order to be able to test it's operation: after few weeks, the set broke! The retailer (Cactus Navigation & Communication of London) has been very helpful in handling the repair under warranty, but the repair itself took very long and the repaired set was back in our hands only after 3 months: had we been voyaging, we would have remained without our phone for a very long time!
Based on this experience, we decided to buy a spare terminal.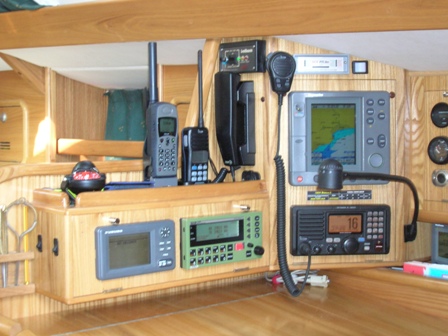 The main communications systems aboard Shaula3:
(above, left to right)
- the Iridium sat-phone
- the hand-held Icom M31 VHF radio
(below)
- the Furuno NAVTEX receiver
- the Sailor 4500e HF/MF radio (the green display)
- the Icom M601 DSC-VHF radio
- "Voice over IP" (VoIP) internet telephony services:
- The technology is not new: voice and video-communication between computers via the Internet is possible since several years, but only very recently, with the commonplace availability of broad-band internet connections and of dedicated, user-friendly equipment, service providers have started offering the capability to connect from a PC - or a special telephone set - not only to another PC but also to the normal telephone network. The "trick" is that the call travels on the Internet for most of its route, and goes onto the telephone network only after having reached the destination Country: this way, tariffs are very competitive, especially for international calls.
The best-known operator offering this service is SKYPE: talking between two computers using the Skype Sw is free, while in order to make ("Skype-out") or receive ("Skype-in") calls to/from fixed phones (not yet available in all Countries) an account with a small deposit to cover the cost of calls is required.
Obviously, we plan to get ready to use Skype during the voyage, although we consider it to be only an additional facility, due to some drawbacks in a case like ours:
- Skype makes sense only if a flat-fee high speed internet connection is available (e.g. though a wi-fi connection, or from an internet cafe), which will probably be the case only in few locations during our voyage.
- The "Skype-in" service, which allows to be called from fixed phones, is available only in few Countries; furthermore, it implies that we are connected to the net with Skype running at the moment of the call, so it's clearly working only for pre-arranged calls.
- amateur radio (HAM):
Many ocean-sailors use HAM SSB radios, mainly to communicate with other boats or with dedicated nets operating on amateur frequencies; in some places, even telephony and e-mail services are available.
Although very popular, these systems are "non marine" and do not allow (at least legally...) to communicate on the marine frequencies. Similarly, marine SSB radios cannot operate on HAM frequencies. Both cases can be more-or-less easily circumvented, and a lot of people use one radio on both bands, but remember it's illegal!
Furthermore, to talk on the HAM frequencies you need an amateur license and callsign, which is not too easy to get (except possibly in the USA).
The only real advantage is the comparatively low cost of HAM radios compared to the type-approved marine sets.
We did not take these sets into consideration; not having the Ham license, it didn't make much sense (but our radio CAN work on Ham frequencies, just in case...).
- marine dedicated satellite systems (Inmarsat):
In the last decades, several dedicated satellite-communications systems have been implemented by the INMARSAT consortium: generally, they are far too bulky and expensive for use on small leisure boats (although they are indeed used on larger yachts).
The only system that, price- and size-wise we could have taken into consideration is Inmarsat Mini-M, which is in fact very similar to Iridium.
Coverage though is less global than Iridium, and prices are slightly higher, so we discarded this option.
NOTE: the systems belonging to the Inmarsat series are in continuous evolution, so it's perfectly possible that some of them may someday become affordable also for small leisure craft!
DATA SERVICES (for email and web-access):
- internet cafes:
We are not well acquainted with this "low-tech" (but also low cost!) solution to access the internet while on voyage: until now we had other solutions available, but during a voyage such as the Blue Water Rally it will be quite possible that no other solution may be available in many remote locations.
An important new technological development to be aware of are the new U3-compatible USB memory sticks, which carry a sort of "portable operating system" allowing Sw to be run from the memory stick itself, without installing anything on the host computer: an excellent solution to make software applications "portable", and perfect for internet cafes!
There are a lot of U3-compatible programs, many free of charge, which can be downloaded from the U3 website, including e-mail clients, antivirus software, web browsers, and so on.
- wi-fi:
Wi-Fi technology is rapidly becoming a commonplace solution to offer internet access to computers within the station's range (typically 100-200 meters, possibly less).
Problem is "who pays"! There are shops and hotels offering the service to their customers, others that make the service available for a reasonable fee (some Euros for an hour) but also some that charge definitely outrageous prices!
(and there are also private, unprotected networks unknowingly allowing access to any PC in the neighbourhood!...)
Presumably, it ill be possible to find a wi-fi connection in many of the places we will visit (Marinas, beach-front hotels, etc.): sometimes it will be difficult to connect from aboard due to antenna distance, so we got ourselves an extension external aerial.
Let's just hope tariffs will be reasonable!
- GSM/GPRS/UMTS:
GSM networks generally allow also data-calls (provided you have a subscription extended to data services); in order to connect to the internet it is necessary to connect to an "internet service provider", and clearly it would be desirable to do that through a local number: calling the usual provider at home via an international call would definitely be too expensive!
Many internet-access providers offer - for a price - an international access-service, with local numbers in most countries; if this will be used extensively, it would be worth doing some shopping around before departure!
Data connections via GSM are very slow, with a theoretical maximum speed of 9600 bits/sec. Due to the fact that data calls are normally metered by duration, and that data transfers via slow connections take a longer time, cost may rapidly become prohibitive.
GPRS is a "fast" data-connection technology available in many GSM networks; there are two problems:
- it's not really that fast (slightly more than plain GSM, in reality), and
- tariffs are absurd! Generally metered by volume of data instead of by time, but prices per Megabyte are much too high.
UMTS is another, more advanced technology for data transfer over GSM networks, faster than GPRS and, needless to say, more expensive! Furthermore, it's still not widely available outside the more advanced Countries.
We will be equipped for both GSM and GPRS data connections, but we will have to be very careful to make a very limited use of them (maybe for e-mail, but not for web-browsing).
Obviously, any technology based on cellular phone works only near land or in harbour, but is unusable offshore. Data connections while on-passage will need other solutions.
- data services via SSB radio:
Using a special modem (PACTOR) it's possible to send/receive data via SSB radio: it is necessary to connect through a suitably-equipped land station and there are both commercial services (Kiel Radio, Montecarlo Radio and others) as well as low-cost services such as the popular Sailmail service.
For an annual price of just 250 US$, Sailmail allows 10 minutes per day to send/receive e-mail through its stations all around the world; the system is very slow (2400 bit/s), and for this reason Sailmail allows only e-mails without attachments and of limited length, with the only exceptions of GRIB files (Meteo).
Just enough to send and receive 2 or 3 short e-mails and maybe a Grib-file, barely enough to send news home and get urgent messages, but that's all!
The obvious benefits are the low cost and the worldwide coverage.
Once spent the money for the SSB radio, it's a natural decision to get equipped for Sailmail, even though the Pactor III modem is not cheap and the use of the system is not very user-friendly; the first tests done through Sailmail's Belgian station (about 400 miles away) have been successful, while connections with the much farther station in the Red Sea (1300 miles) have been less easy.
- general-purpose sat-phones:
Like with GSM, also sat-phones, including Iridium, allow low-speed data connections (2400 bit/s) both for e-mail as well as for web browsing (utilising ad-hoc compression software to better exploit the limited bandwidth).
Metering is by time, the usual 1.5 $/minute: not cheap, but the iridium software is very efficient and less than a minute is needed to exchange a few e-mails.
Also Sailmail's sw can interface with Iridium (or GSM), so there is no need to use different e-mail clients for use with different connection systems.
The fist tests have been rather positive, so we are reasonably confident that between Sailmail and Iridium we will be able to manage our communication needs while on passage (and maybe even when near land, in absence of other alternatives).
- satellite hi-speed data systems (RBGAN):
Inmarsat's RBGAN system is a relatively recent proposal from Inmarsat to allow relatively cheap data connections.
Too expensive for us, it may become the data-transmission system of choice in the near future.
- marine dedicated satellite systems (Inmarsat):
Despite these being "official" marine systems, they are all too big and expensive for a small craft like ours.
EXPERIENCE: read our comments at the end of the voyage, on our Blog!