CAPSIZED! (Part 3, the damages)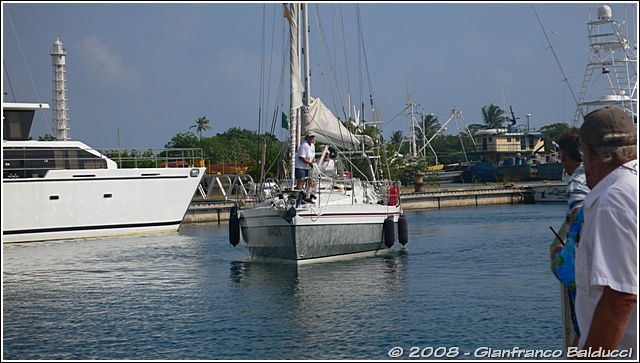 Shaula limps towards the pontoon at Shelter Bay, two days after the accident.
We were exhausted and worried about the possibility to perform repairs before the Panama Canal crossing.

THE DAMAGE:
Damage to the boat was due to three different causes:
1) the high-speed impact with the water: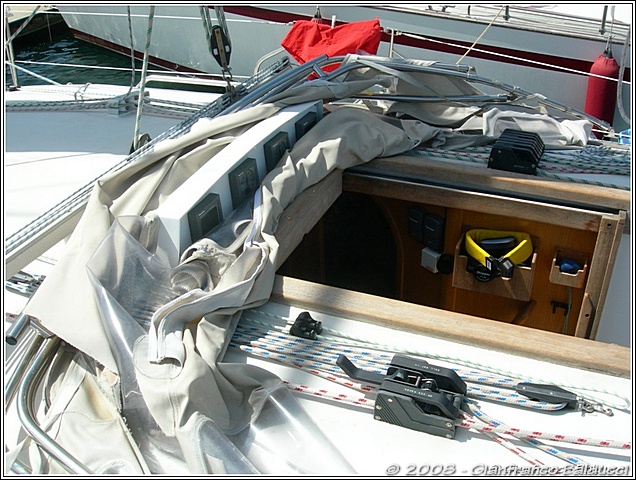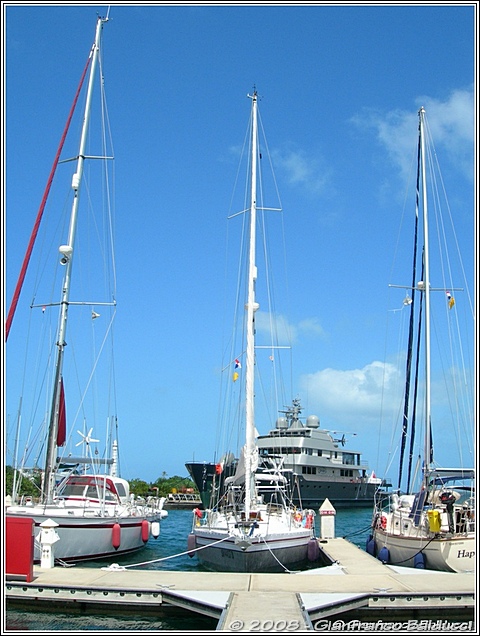 The shredded sprayhood (above-left) and the bent crosstrees (above-right)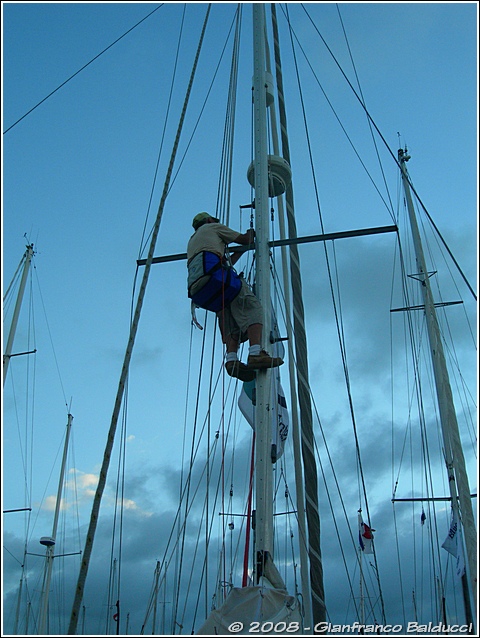 - bent starboard-side crosstrees and mast connections
- bent starboard stanchions (straightened - sort of )
- shredded sprayhood and twisted frame (replaced)
- twisted windvane frame and broken vane (part replaced)
- shredded starboard dodger (repaired)
- snapped flagpole (minor, but couldn't find a replacement!)
- cracked mainstay masthead fixing (detected only after the voyage's end!)
- damaged masthead VHF aerial (it broke months later)
- cabin doors slipped from their hinges and went flying around
- the engine-start battery was damaged by the capsize and failed later (replaced)

The rigger is busy repairing our crosstrees
2) Objects lost to the sea:
- Baby! (no, just kidding, actually I recovered her!)
- cockpit teak grating
- starboard-deck fuel canisters
- cockpit cushions
- line-stowage bag on starboard side
- various objects from the cockpit stowage pockets (flashlights, winch handles, etc.)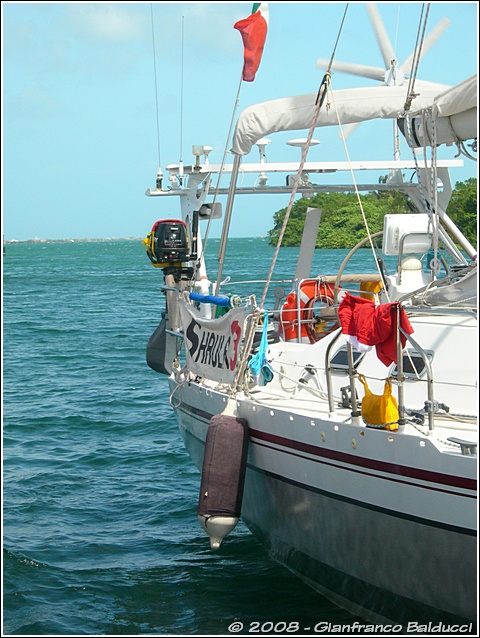 3) items submerged or washed:
- outboard motor (not repairable, replaced in Australia)
- electric-board automatic switches (replaced)
- masthead wind-transducer (replaced)
- man-over-board system's main unit (replaced)
- autopilot's remote control main unit (replaced)
- binoculars (water ingress caused mold inside the lenses)
- fixed-GPS (continued working despide being full of water!)
- Notebook PC (replaced)
- Pocket-PC with GPS (replaced)
- battery-charging monitor (replaced)
- hand-held VHF (not replaced because there was already another one on board)
- Pactor modem (dead, replaced with one on loan from another boat)
- nautical charts and Pilot Books (wet and damaged, but most were still usable)

THE COST:
I simply don't know! In fact, I never made a list of the damages before now, and not all repairs have been done in one go, both for economic reasons and because some parts failed at a later time or replacements were found only after some time.
From a very rough estimate we should have spent in the range of 10,000 Euros, just for the purchase of replacement parts and having performed most repairs myself.

INSURANCE?
Of course, we were fully insured, including a total loss, but in the end we declined asking for a refund for the following reasons:
1) although they promised to cut down the fuss to a minimum, the insurers requested to see and validate quotations before approving any job, and this was hardly feasible for us, confronted with the Panama Canal crossing in few days' time and then just about one week before leaving for Galapagos, where a booked cruise around the islands was waiting for us. We definitely had to proceed immediately with repairs!
2) the initial repair-cost estimate was quite in the same ballpark as the amount of the policy excess plus the loss of the no-claims bonus at the time of the next renewal, so we decided to forget it all and pay out of our pockets. In fact some (expensive) repairs materialised only at a later time, but then it was too late!
CONTINUE READING THE MAIN STORY