In view of our plans to cruise from late spring to early summer, there was no time to perform complex works; anyway, we are now talking of improvements, as the repairs have been completed.

HULL CLEANING AND ANTIFOULING APPLICATION:
The cleaning of the hull was more troublesome than expected, both below the waterline where the previous year's antifouling had come off in patches that required removal of what was left, and above the waterline which 3 years after the previous in-depth cleaning had become dull and streaked.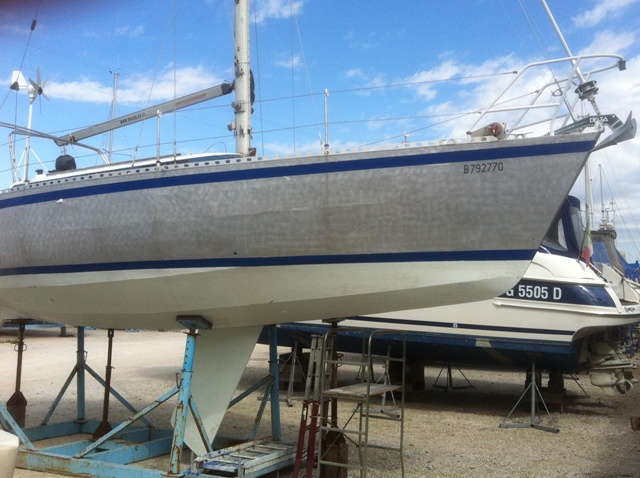 After our "nostalgic" trip to Brittany, we could complete the job and apply the new antifouling paint, then proceed with the launch!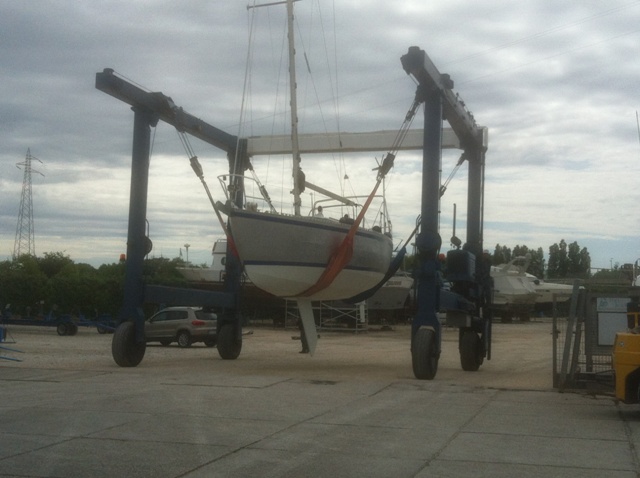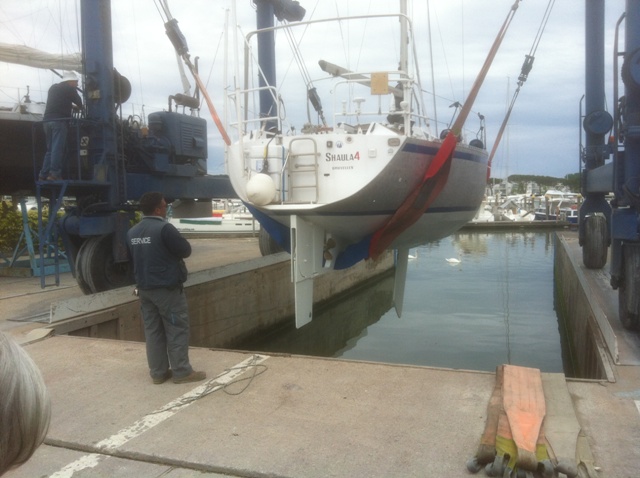 Also the weather does not help, bringing a series of depressions one after the other which we often see discharging violently more to the south, towards Ancona, right in the direction we will have to follow when we will start!

GENOA SHEET TOWABLE CARS:
During the winter we purchased the necessary items to create a towable-car system for the genoa sheets. We were familiar with this solution which we adopted on both Shaula2 and Shaula3 and which we found very convenient to trim the sheet cars' position from the safety of the cockpit.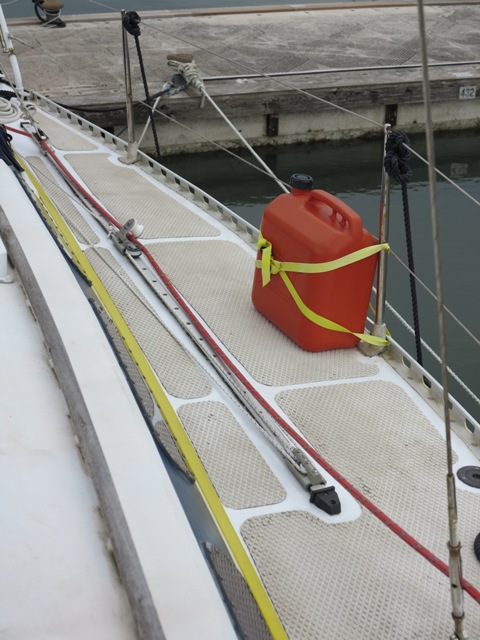 We take the opportunity to make a safety improvement, adding under-deck nuts and washers to the screws holding the cars' rails, which the yard had only screwed onto the deck's aluminium, with no nuts below. This worked for 30 years, but last year it failed catastrophically on the mainsheet rail, which was ripped out! We made the modification to the mainsail sheet rail last year when we replaced it, and it was now time to do the same modification to the genoa rails.

TOILET ROOM DOOR:
Originally both the toilet and the stern cabin's doors were opening towards the main cabin, which was very inconvenient as the doors could not be locked in the open position to provide some ventilation to the two small compartments. Furthermore, the cabin's door in the open position was disturbing the work at the galley, so much so that already in Fiumicino, before leaving with the just-acquired boat we made a modification to open the door towards the cabin's interior and lock it there in the open position.
The problem with the toilet compartment's door remained unsolved: the solution of opening the door towards the interior was not feasible due to the compartment's limited room. After having discarded some complex solutions, we went for a simple one: just move the hinges to the other side of the door, which will continue opening towards the main cabin but on the side of the navigator's seat, where it can be locked in the open position.
For this year the works are over, this time Shaula will spend the winter in the water, see you next spring!