SHAULA4

ALU LÉGENDE 1040
- Designer: Philippe Subrero (studio "Mer et Design")
- Built by Chantiers Grardel et Fils, Dunkerque (France), february 1985, serial no. 003
- Flag: Belgium
- "Deriveur Integral" version (fully retractable keel) with long deck-house
- Hull material: Aluminium AG4MC (5086)
- Hull Length overall: 10.40 m
- Hull Length: 9.75 m
- Waterline length: 8.67 m
- Beam: 3.5 m
- Draught: 0.55 m (keel up) / 2.10 m (keel down)
- Displacement: 4.300 Kg
- Ballast: 2.000 Kg
- Gross Tonnage: 10,3 tons
- Sail Area: Main 21 sqm, Genoa 39 sqm
- Water tanks: 2 x 200 lt
- Fuel tank: 100 lt
- Engine: diesel NANNI 3.75HE 21 HP
- Propeller: fixed, 3 blades, MICHIGAN MARINE 13" R 08"
- Conventional prop-shaft with Pack-less sealing system
- DELTA 16-Kg main anchor with 100m of 8mm chain
- LOFRAN's electric anchor windlass
- Aft cabin with double berth
- 2 bunks in the main cabin
- Forward double "V"-shaped bunk ("breton bunk")
- Toilet compartment with sink, water, WC with black-waters tank
- Type Approval: 1st Category (offshore)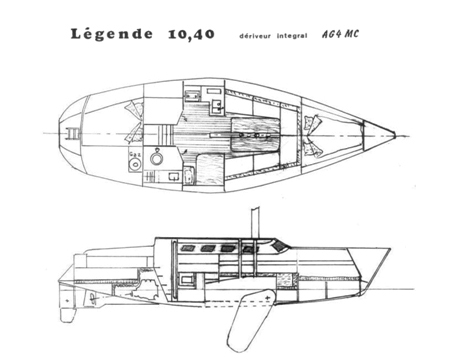 HULL: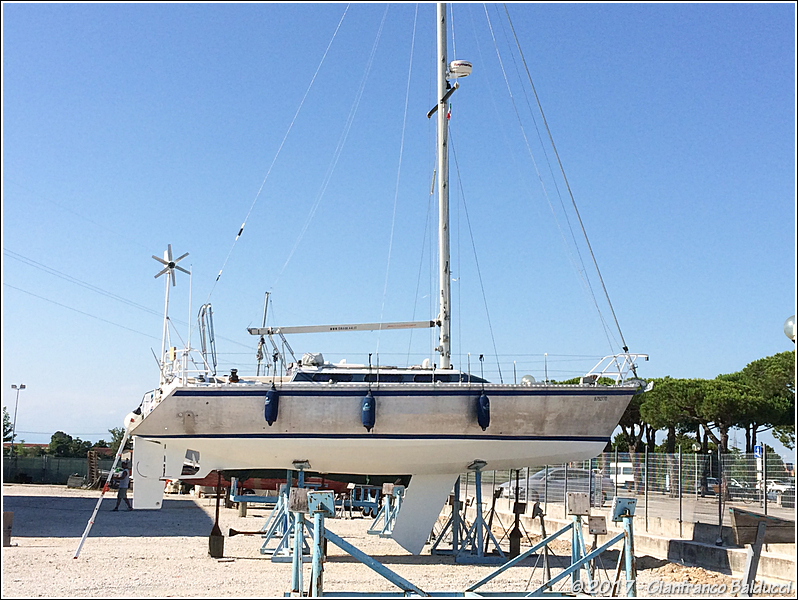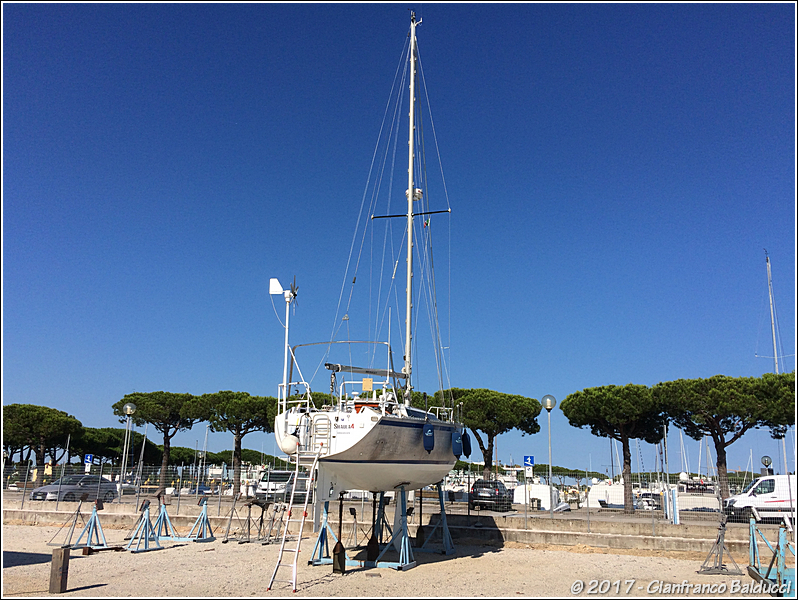 Aluminium-alloy hull (5086 series), chined in the submerged part and rounded above the waterline. Thickness varies from 3 to 8 mm.
The keel and the lower part of the rudder can rotate backwards, allowing to reduce the draught when maneuvering in shallow waters or to rest the boat on the bottom at low tide.

DECK: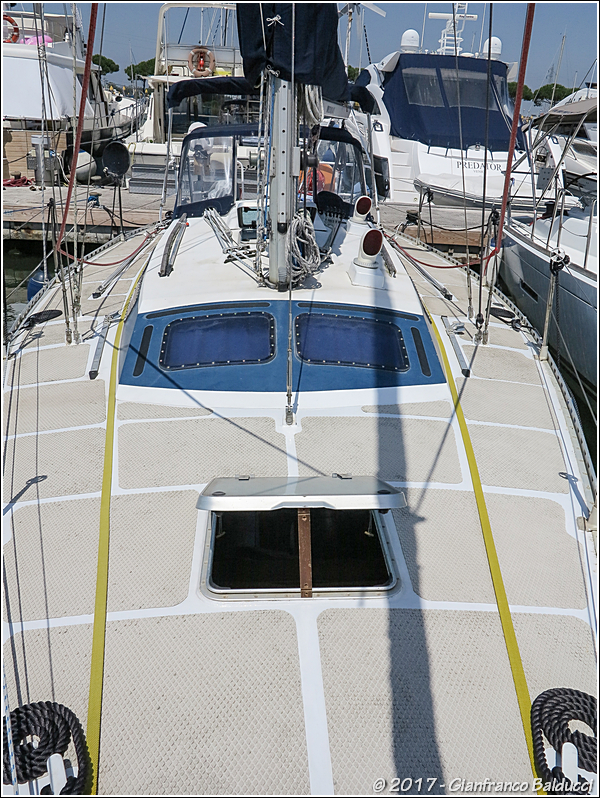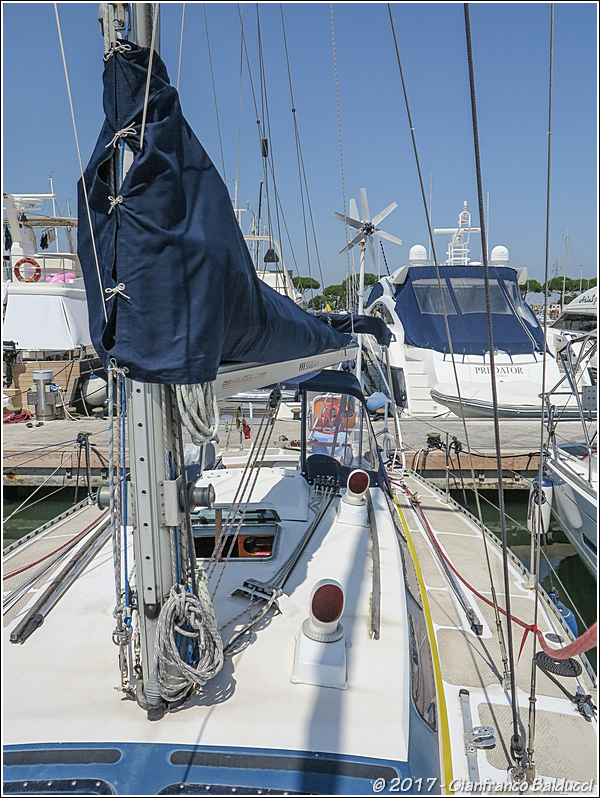 Anti-skid panels on the deck, while the cabin top is treated with anti-skid paint.
3 hatches and 2 venting cowls ensure ventilation under deck.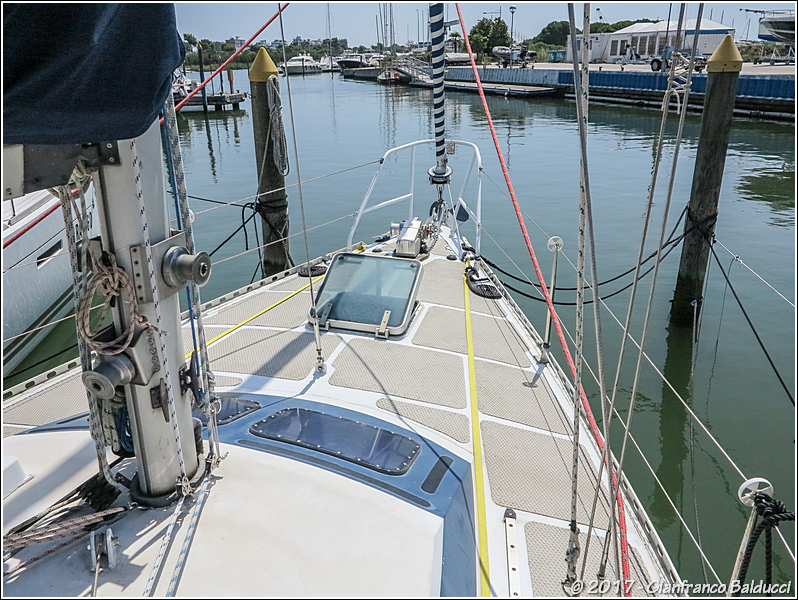 An electric windlass is installed forward, over the chain-locker.
Two bow-rollers and 4 cleats are available.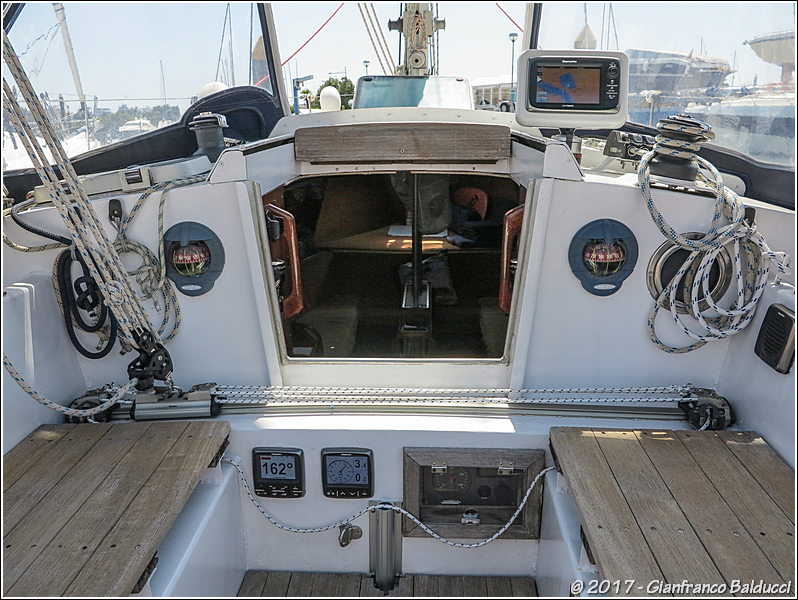 In the cockpit, 2 course-compasses, the radar/chartplotter display, the engine panel and the 2 multi-function displays for speed/depth/wind and the autopilot control. The autopilot can also be controlled via a wireless remote.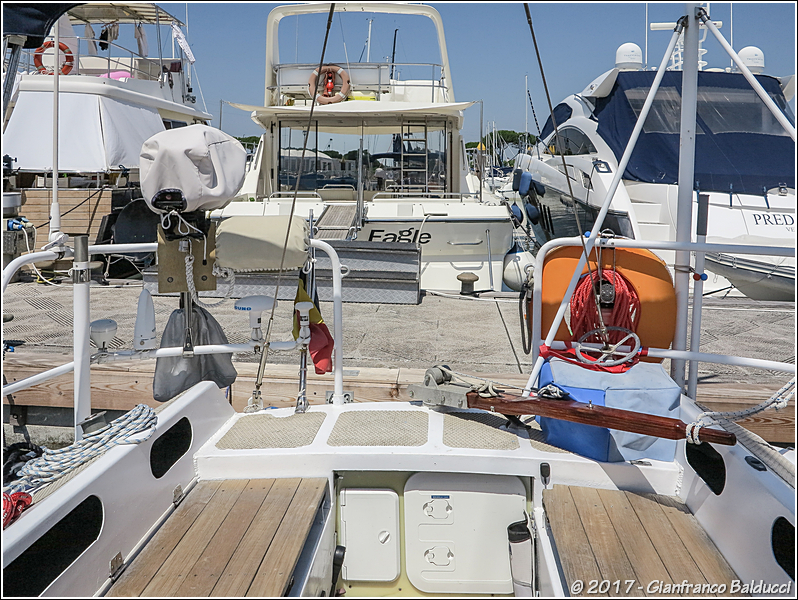 The pushpit carries the outboard motor, the Navtex, GPS and TV aerials, the stern 50-meter mooring line and the horse-shoe lifebuoy with floating line and automatic light.
Also the gas-tight locker for the gas bottle can be seen.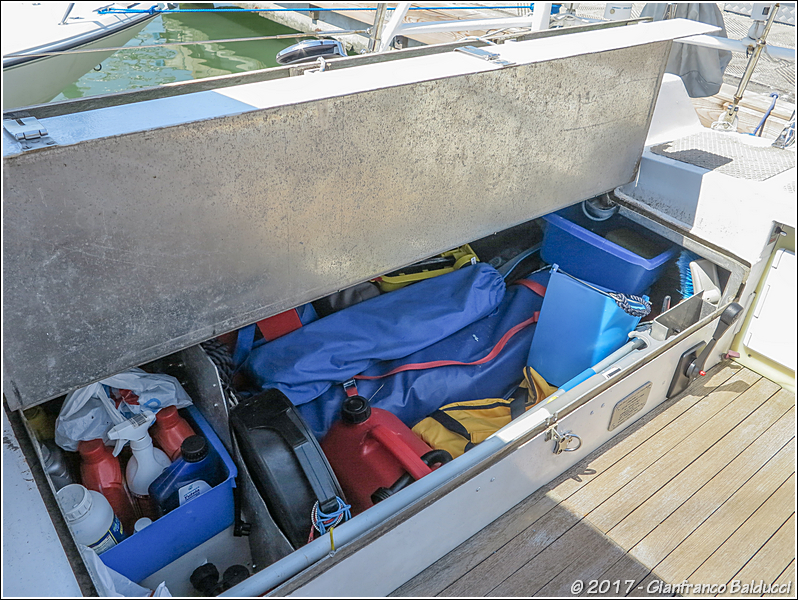 The capacious cockpit locker.

INTERIOR: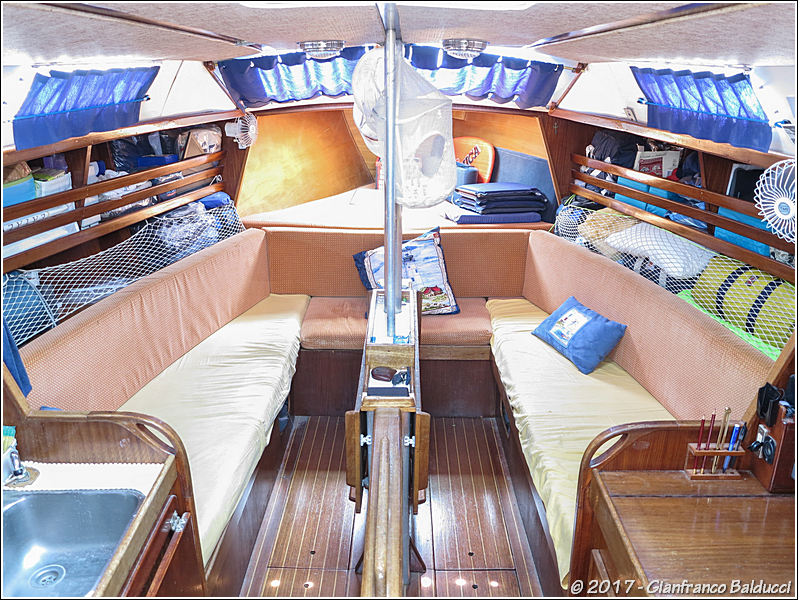 The main cabin: the keelboard box can be seen in the middle, and the "breton bunk" forwards is also visible.
Under the bunks, the water tanks an plenti of storage space.
Under the floorboards, 2 tons of ballast.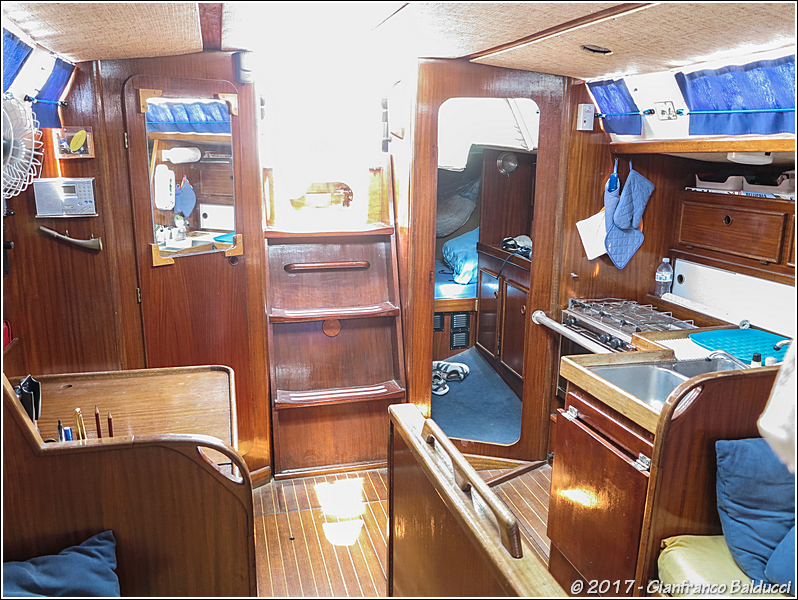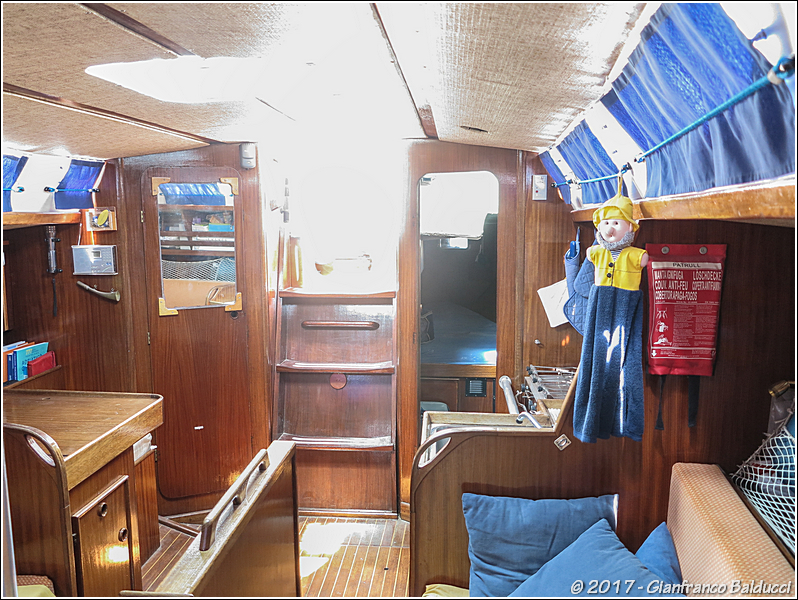 The aft part of the main cabin, with the chart table and the galley areas; the two doors lead to the stern cabin and to the toilet compartment.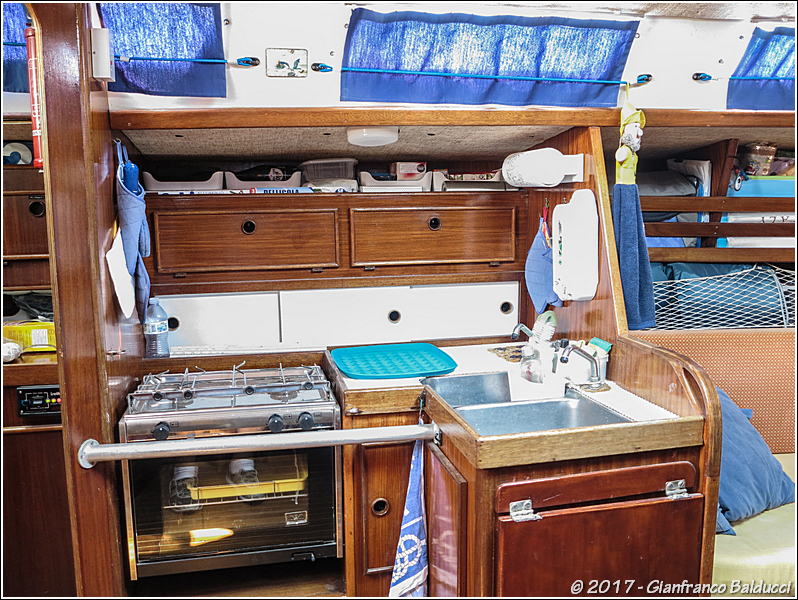 The galley compartment, with a gas-fed double-burner plus oven (new in 2013), double sink with sea-water tap, storage space and a foldable work area.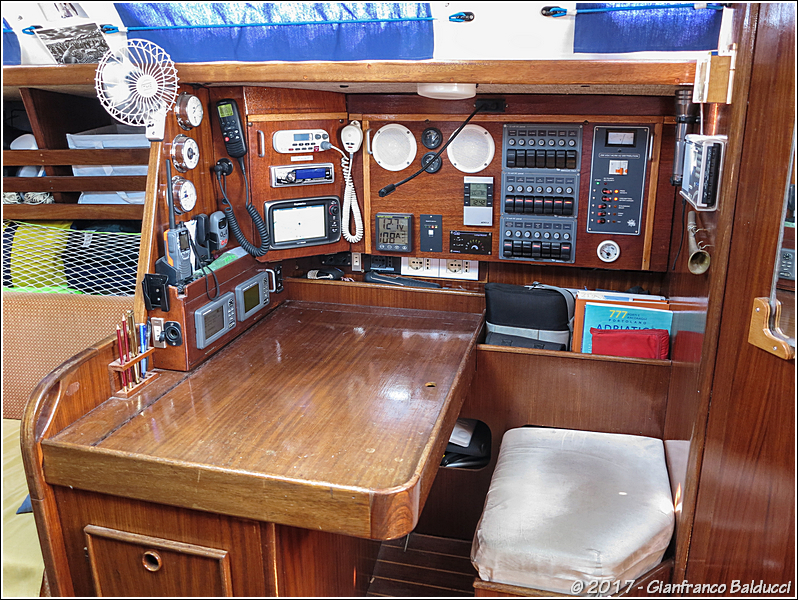 The charting area, with the 12V and 220V switch panes, battery monitor, the radar/chartplotter display, 2 fixed VHF radios, hand-held GPS, spare GPS receiver, Navtex receiver, radio receiver, stowage spaces for charts and pilot books.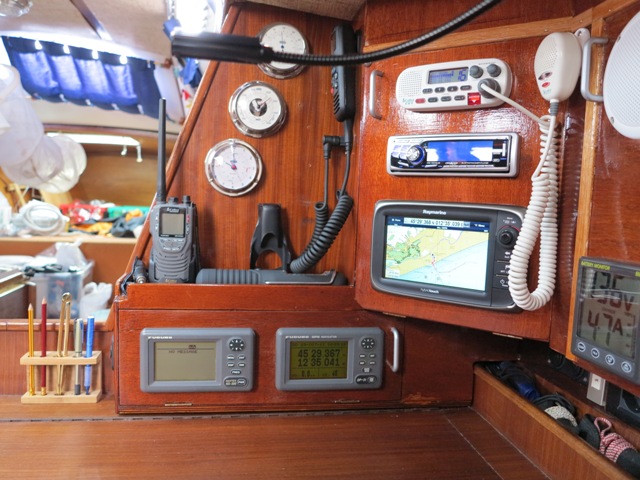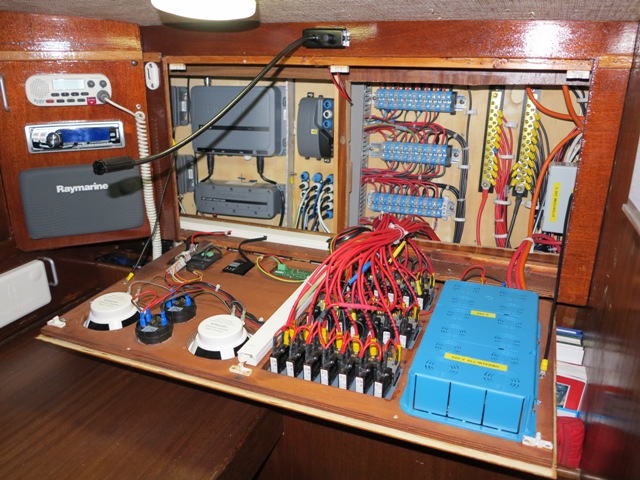 Detail of the instrument area and of the cabling behind the switch panel.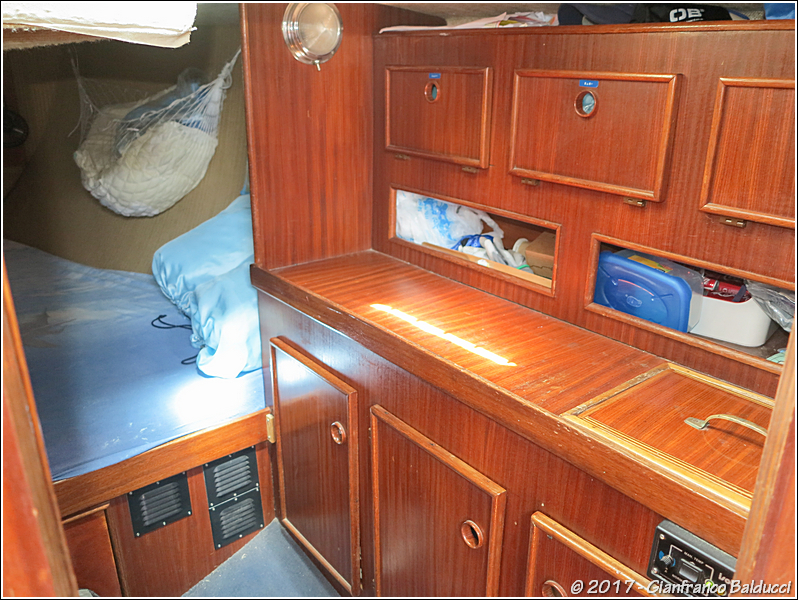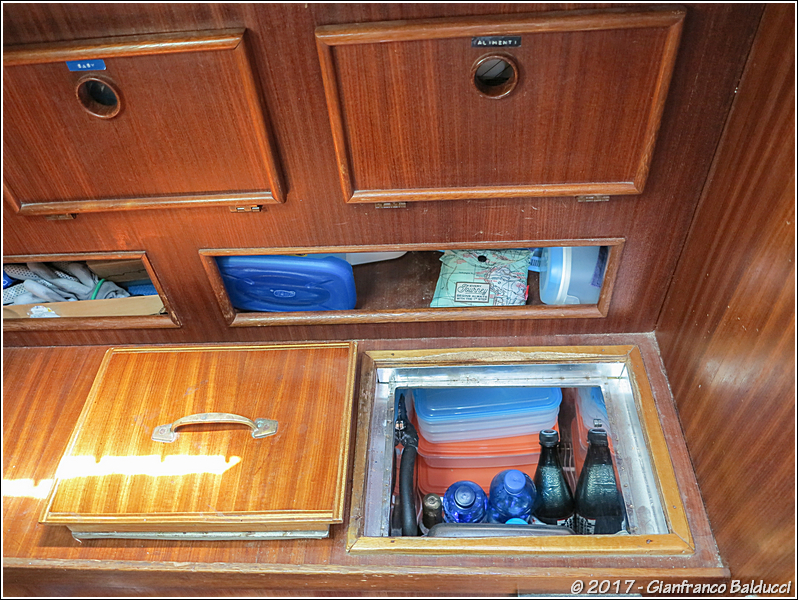 The stern cabin incorporates a stowage area where also the fridge's coolbox is located. The refrigerating unit is located under the bunk, together with the batteries and a limited stowage space.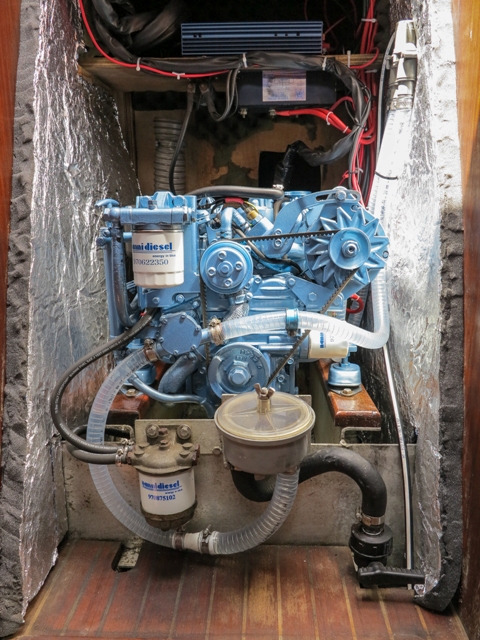 The toilet compartment, with sink and manual WC, with discharge directly to the sea or alternatively to the black-waters tank.
A small hanging locker accomodates some oilskins.
The engine compartment, with separate bilges. The engine cooling is indirect with fresh water via a heat exchanger (possibility to add a water calorifier). The engine was totally refurbished in 2014, while prop-shaft, stern gland and propeller were replaced in 2016.