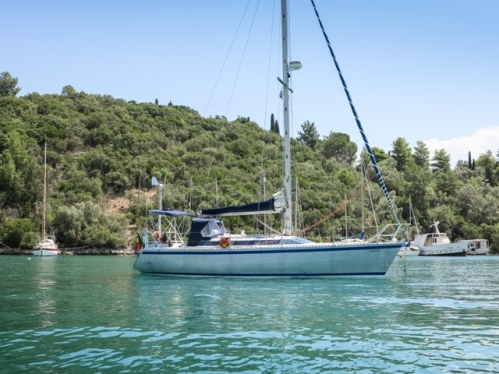 € 48.000
(+ 4% Brokerage Fees)

Contact for info and visits:
Brokerage Agency.

WHY SELL?
Unfortunately, time is passing...
It's been 10 years since we left for the circumnavigation, and although we are still reasonably fit, we are approaching 72 and we have to acknowledge a diminished physical efficiency which might become dangerous if faced with an emergency situation, the two of us alone.
When we purchased Shaula4 back in 2013, we were planning to enjoy "some years" of not-too-demanding extended cruises; now 4 years have gone by, and it's becoming time to put Shaula4 on the market, with the objective of achieving the sale within a couple of years.
In the meantime, we intend to continue cruising and consequently to keep Shaula4 in shipshape condition.

WHAT KIND OF BOAT IS SHAULA4?
Shaula4 is a Légende 1040, an aluminium-hulled lifting keel boat, built in the mid-80's by Grardel et Fils,a small yard in Dunkirk; a total of 36 were built, not bad for such a specialised boat.
This type of boat is very popular in France, where many ports and harbours dry out completely with the low-tide, making life difficult for conventional keeled sailing boats, while a lifting-keeler can easily rest on the bottom.
Several French yards build this kind of boat, typically with multi-chined hulls to reduce costs; the Légende 1040 follows a slightly different approach, with the topsides which are rounded to achieve a more conventional look.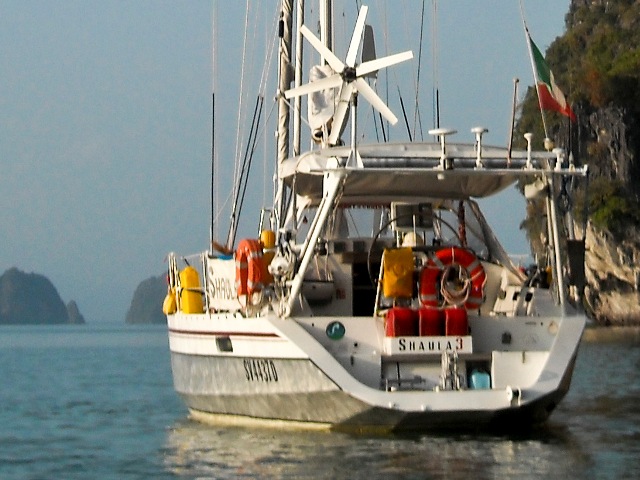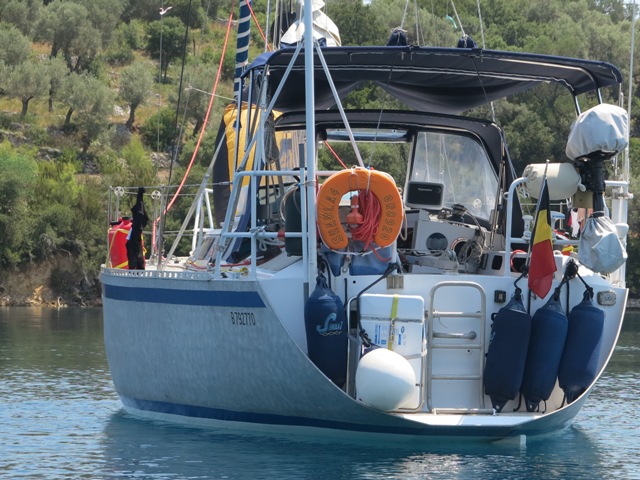 Comparison between the chined-hull of Shaula3 and the rounded one of Shaula4
The build is extremely strong, with the bottom plates which are 8-mm thick (to allow resting over a potentially uneven sea-floor) through 5mm on the sides and 3 mm in the less stressed areas.
The result is a one-piece shell, strong and light.
It is exactly in light of the great robustness, and of the capability to reduce draft by lifting the keel and rudder, that this kind of boat has become very popular with long-distance sailors who appreciate a boat which can shrug-off small collisions that sooner or later will happen, and which allow access to shallow, uncharted anchorages.
Obviously, there are negative aspects as well: the main drawback of this type of yacht is that, due to the keel's limited size, the windward performance is not exactly impressive (a limitation that is not too worrisome for trade-wind sailors, but may be important in different contexts).
Furthermore, the build from metal plates forces to adopt simple, essential lines: compared to modern GRP hulls, an aluminium boat looks somewhat boring.
Finally, another important aspect is cost: aluminium boats are expensive to build, so much so that there is no longer any production model under 11 meters, if you want one you have to look at the second-hand market.

WHO COULD BE INTERESTED?
Like I said, this is a voyager's boat, and in view of its dimensions, it would particularly suit a cruising couple aiming at long-distance sailing on a limited budget, both for the purchase of the boat and for running costs (lower tariffs in ports and canals, less fuel consumption, smaller sails...).
The interior is roomy enough for 2/3 people plus provisions during an extended passage, and possibly a couple of visitors while coastal-cruising, and at the same time the size is adequate to handle challenging weather conditions.
Conversely, this is not the right performance-boat, fast and nimble around cans: for such use, there are better options at a lower price.

WHAT ARE THE BOAT'S CONDITIONS?
When we purchased it in 2013, the boat was in a very low maintenance status, and all systems were rudimentary and outdated, if at all working; electronics were almost non-existent or not working.
During the next 3 years, we made a lot of refurbishing work, such as: replacement of all deck hardware (winches, stoppers, sheet cars), replacement of the standing rigging, engine total overhaul, replacement of stern gland, prop-shaft and propeller, replacement of main anchor and chain, replacement of most running rigging, replacement of the gas and water systems, new oven, rearrangement of the refrigerator, new electrical distribution system and a new set of electronic instruments, including autopilot, radar and two chartplotter displays, new WC with addition of a black-waters tank.
It's not all done yet: there are some further things to do, like replacing the settees' covers (the inside foam has been replaced already), replace the glass of the hatches, which have become foggy, and above all replace the genoa and the mainsail (the existing ones are usable, but definitely past their best time).
Furthermore, if the purpose is long-distance sailing, there are some additions to be considered, such as a windvane, solar panels (perhaps installed over a stern arch), an MF receiver or better a transceiver, possibly a watermaker and an engine-water-heated calorifier.

THE PRICE:
The price that we ask is posted at the top of this page: it's clearly high if compared with production GRP boats of the same age and comparable status, but it is definitely competitive with the market prices for similar aluminium-hulled boats (both lifting-keel or fixed-keel) currently on the second-hand market.
I take for granted a minimum of negotiation, but sorry, I cannot do part-exchanges with boats, houses or anything else.

BELGIAN FLAG
The boat is belgian-flagged: if you are an EU citizen and are happy to keep the belgian flag, formalities are very simple and not very expensive (mostly performed by mail). Even if you are not EU and/or you wish to move the boat under another flag, the exit formalities with Belgium are very straightforward.

THE MOORING PLACE
It's not up to me to take commitments for the Marina, but currently they are not fully booked and therefore it should not be a problem to keep the mooring contract with the Porto Turistico di Jesolo, where the boat is currently moored. Prices are more or less in line with the other marinas in the vicinity. The yearly contracts go from May to the next April, so at the moment of the sale the mooring should be already paid up to the next April.

TO VISIT THE BOAT:
The boat is stationed in Jesolo, which is not far from the Venice airport and railway station. Visits are strictly BY APPOINTMENT ONLY, the Marina will not allow entry to un-accompanied visitors!
Consider that this winter the boat will be parked on the hard: optimal for an in-depth check!

CONTACT:
The sale is managed by the brokerage Agency
, based in nearby Caorle.
e-mail: info@skipperpoint.net
tel. +39 0421 260402
mob+39 320 7459875
Further info on their web-site: http://www.skipperpoint.net/