Over a period of few months, we had to equip Shaula3 to our liking, taking into account our future sailing programs.
According to common wisdom, a long-distance sailing boat is better kept as simple as possible, to reduce the risk of spending most of one's time - and money! - doing repairs.
The reasoning is OK, but when put in practice you start realizing how long is the list of "essential" gear - for comfort or for security - and in the end the main reason why we opted stuff out was due to budget or storage space limitations!
Beyond the big systems, a lot of time has gone into a long list of small modification and installation of minor accessories.
THE BUDGET:
obviously, the available budget is the bigger deciding factor, although ability to do-it-yourself and willingness/capability to hunt for discounted prices may impact significantly on what the budget may achieve.
In the end, and with the limitations imposed by the boat being far from home and by work engagements, we managed to spend in the range of 50% of the original purchasing price!
(We will devote a page on this subject in the "Technical Notes" section)
RIGGING AND SAILS:
when we bought her, Shaula was loaded with several rigging optional items: furling genoa, full-battened mainsail with ball-car system, lazy bag and lazy jacks, granny-bars around the mast base, removable baby-stay and runners to carry a self-tacking staysail or storm jib, cockpit-led lines (not including the reefing lines, though).
Jobs done:
- check-up and mend the 4-years-old sails, which were worn but still usable
- added a new main and a new genoa (kept as spares, so far)
- added a cruising chute for light-winds sailing
- converted the removable baby-stay into a fixed one, with roller-furling gear for the staysail (modified accordingly)
- replaced the genoa cars with a cockpit-controlled version
- added two winches for spinnaker-sheet handling
- replaced the single-sheave fairleads with double-sheave ones
- added a handful of blockers on the cabin-top to lead back the staysail sheet and roller-line and the spinnaker halyard
Another major modification was the installation of a Windpilot self-steering gear, planned to take over the task of steering the boat while on passage, in place of the more vulnerable and power-hungry electronic pilot: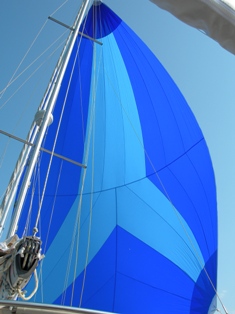 SAFETY: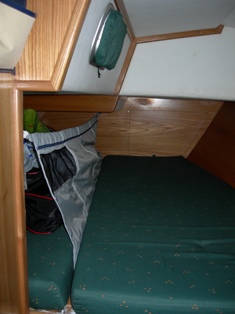 not much existed when we bought the boat, just the mandatory liferaft and flare-pack, so we had to undergo a major upgrading:
- twin life-lines along the decks + strong attachment points in the cockpit
- self inflating lifejackets + 3-point harnesses
- watertight torch lights
- grab-bag
- emergency thermal wear
- cyalume chemical light-sticks
- 406MHz EPIRB with GPS positioning
- SART radar responder
- collapsible emergency ladders below each side gate
- lifebuoys, floating lights, self-inflating dan-buoy
- MOB recovery system
- white anti-collision flares
- lee-clothes on all sea-berths and nets over all exposed shelves
An important recent addition, which we have not tested yet, is a Raymarine LifeTag MOB alarm system (important for the peace of mind of the one of us asleep under deck!).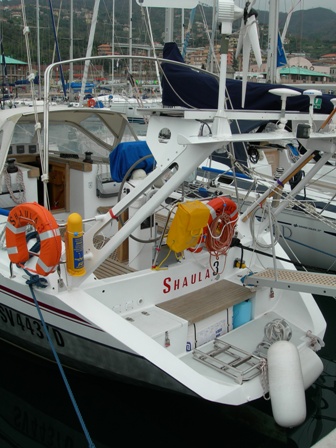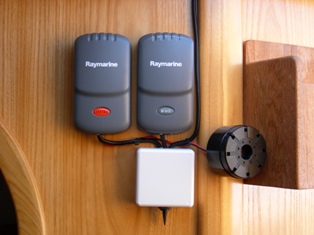 The man-overboard alarm system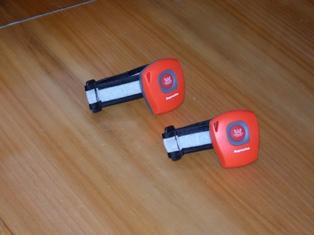 The man-overboard alarm's tags
ANCHORS AND MOORINGS:
initially, we found only a good but smallish 16Kg-DELTA primary anchor with 60 m of 10mm chain, and an aluminum FORTRESS anchor, with no rode and just stowed at the back of a locker. The electric windlass looked like an impressive beast, though!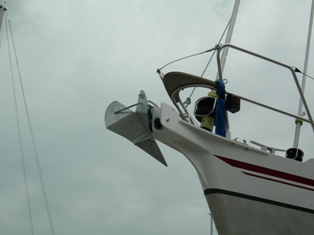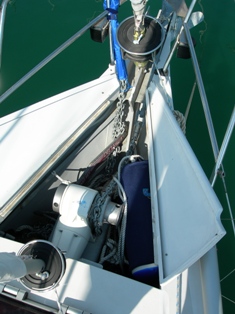 The changes we made:
- added a 22Kg-CQR as the primary anchor (later put aside as a spare and replaced on the bow by a 20Kg DELTA, which better fits our bow-roller)
- added 40m of rope to the 60m all-chain rode
- equipped the DELTA as a secondary bower-anchor, with 20m 10mm-chain and 40m rope
- added a 10Kg-HALL kedge, with 10m 8mm-chain and 25m rope rode
- added a windlass remote control on the steering column
- added an assortment of mooring lines of various lengths
- added 50m of high-stress belt on a roller, installed on the pushpit rail (mainly for stern shore-lines)
ELECTRONICS AND COMMUNICATIONS:
on this subject, the previous owner was definitely a fan of simplicity! Just 2 RAYMARINE wind+tridata instruments, an excellent RAYMARINE ST6000+ pilot with hydraulic drive, a good but basic Magellan fixed-GPS, a cheap VHF radio and a FURUNO LCD radar set.
We wanted to add a chart-plotter, but unfortunately the space limitations of the area around the chart table forced us to replace the existing radar display with a RAYMARINE combined Radar-Chartplotter unit.
Luckily, Raymarine was just doing a clearance sale of its old model, the RL70CRC, which is networkable, so with less of the price of one unit I have been able to buy two, one for installation below decks, and the other at the helm: the two sets are connected, and can share both the chart cartridges, as well as the radar display.
We also added to the Raymarine instrument-loop a Rate-Gyro unit, to allow operation of the radar's MARPA function (to automatically keep track of the targets' speed and course).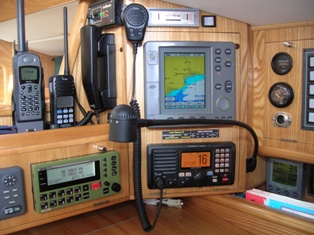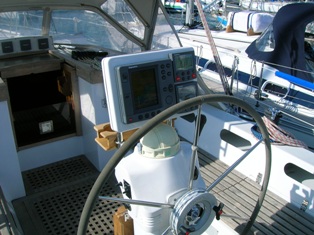 We also replaced the VHF set (not type-approved in Italy) choosing a top-of-the-range ICOM M-601 with DSC, equipped with a remote-control handset in the cockpit. We also added a FURUNO Navtex receiver.
Once the boat was in Italy, we had an SSB radio professionally installed; we had to select a huge and very expensive SAILOR 4500e, which was the only type-approved one with a separate RF unit which could be hidden in a locker.
Together with a laptop PC and a PACTOR IIe modem, the SSB radio will allow us to send and receive e-mails from (allegedly...) everywhere in the world, and it also turned out to be an excellent rig to receive Weatherfaxes!
Last thing, we bought an IRIDIUM satphone, which is expected to be our main means to talk with the people at home. For the time being, we have not installed a fixed satphone antenna as the phone seems to catch its signal even from inside a metal hull.
In summary, the jobs done:
- replaced the FURUNO radar with 2 Raymarine RL70CRC Radar/Chartplotters
- repositioned the old fixed GPS to serve as a backup unit
- repositioned the radar aerial from the stern portal to the mast
- added a rate-gyro unit to the NMEA circuit (to allow the MARPA function of the radar)
- added a Raymarine SmartController wireless remote control/instrument repeater
- added close-hauled, speed and depth displays on the console
- repositioned the tri-data as an under-deck instrument repeater
- replaced the VHF radio with an ICOM IC-M601 with DSC and remote station
- installed a SAILOR 4500e MF/HF SSB-radio + PACTOR IIex modem
- added an ICOM IC-M31 hand-held VHF (+ an old M11 which we keep in the grab-bag)
- added a FURUNO Nx300 Navtex receiver
- added a GARMIN 72 hand-held GPS (an emergency spare, normally kept in the grab-bag)
- installed a car-type radio+CD player, connected to speakers in the main saloon and in the cockpit (the cockpit speakers can be switched to the SSB radio)
- installed a SONY LCD-TV with an external GLOMEX omni-directional antenna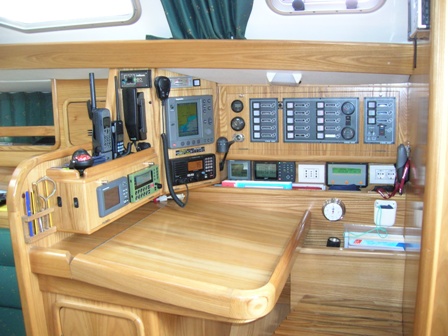 ELECTRICS:
the boat was already equipped with 4 (rather tired) 100Ah-batteries (3 x services + 1 x engine starting), of a CRISTEC 25Amp shore-power charger (apparently small, but it proved to be adequate) and a huge AEROGEN 6 wind generator; the whole lot was supervised by a THYRA charging monitor.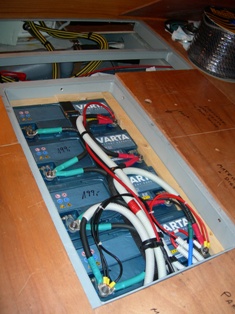 What we changed:
- added a galvanic isolator on the shorepower earth connection
- added 2 50w-solar panels, installed on the aft portal (see photo on the right)
- installed an ADVERC intelligent regulator on the existing engine alternator
- installed low-consumption LED lights wherever possible
- installed a 1000w-STERLING inverter (mainly to occasionally feed 220V devices - such as some chargers - and the occasional small tool)
- added LED reading lights in the saloon
- added illumination of the cockpit and stern areas
- replaced the tri-colour and anchor-light lamps with LED ones
- removed an existing prop-shaft alternator which did not seem to contribute much to the power balance and was suspected of causing an anomalous propshaft-bearings wear
GALLEY AND COMFORT:
here, we did not change much: the galley area is quite spacious, and is equipped with a simple but adequate ENO gas oven.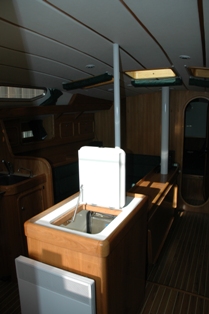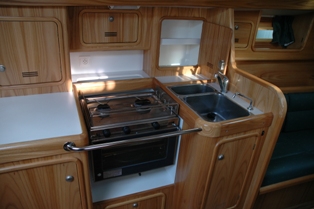 A 60 lt top-opening coolbox, installed in the middle of the saloon, is cooled by an ISOTHERM ASU 4201 Magnum unit, with eutectic plate, sea-water cooling and an electronic power-consumption optimizer.
We also found a 30 liter/hour LIVOL watermaker already installed but never used!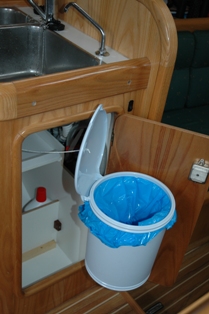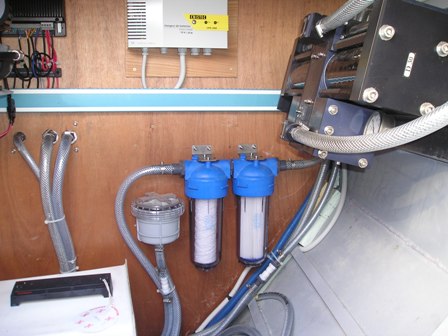 Additional modification:
- added a small garbage bin in the galley area
- added a bubble-leak tester on the gas pipe, in the gas-bottle locker
- added electronic gas and CO detectors in the main cabin
- added to the pressurized fresh-water circuit two foot-pumps (to reduce electricity- and water-consumption, as well as a backup to the electric system)
- added a teak cup-holder and a small folding table on the wheel pedestal (in addition to the - not very practical - lifting cockpit floor which converts into a large table)
- replaced the existing, "home-made" bimini with a professionally-built one!
- added line-holder bags everywhere around the cockpit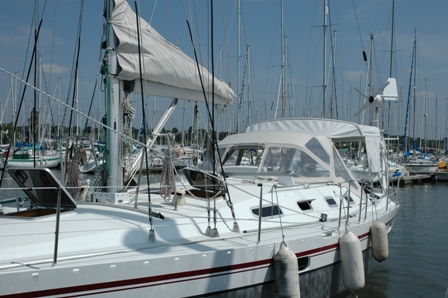 TENDER AND TRANSPORTATION:
we found on board a Bombard AX3 inflatable (the type with inflatable floor and keel), equipped with a small TOHATSU 3.5 HP outboard. Adequate, and it's possible to sail with the little boat hanging from the stern davits, thus avoiding the risk of damage by dragging it for long distances.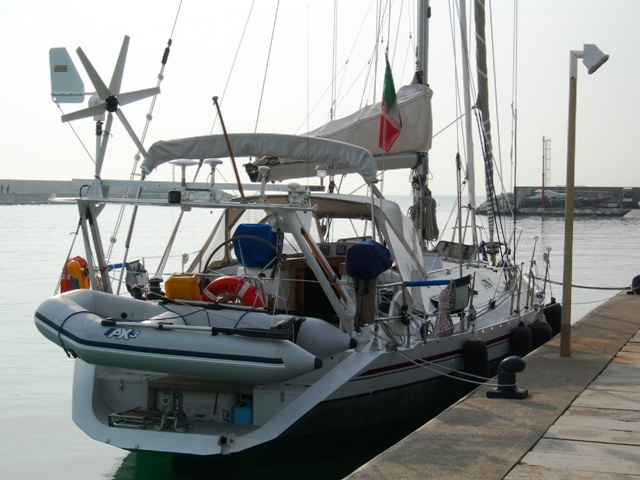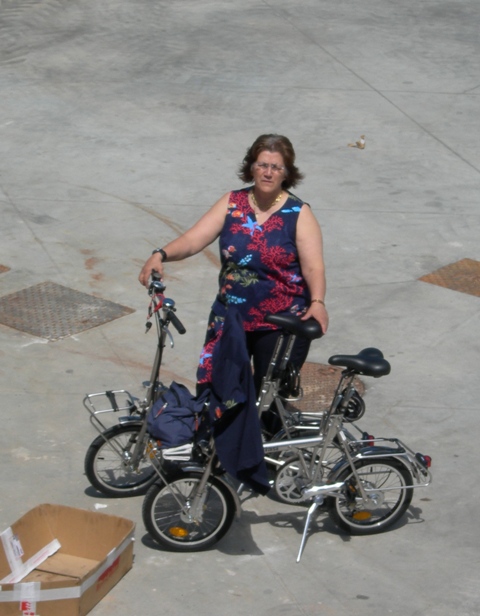 After long debates on actual usefulness, we also bought two DiBlasi stainless-steel folding bikes. They are not the smallest around, but they proved their value to extend our range when in port. Obviously, it remains to be seen if they will be of any use on a long voyage in areas where anchoring is much more frequent than being moored to a quay: will we actually take the pain of carrying them back and forwards with the tender?
NOTE: for the "Great Voyage" we resolved to buy a larger tender and a more powerfull outboard, suitable to push also the main boat in an emergency. After having evaluated several options, we had to accept that we have no room for a RIB or anyway for a much larger inflatable, so we opted for an inflatable-floor 2.85m ZODIAC Cadet Club-4 Fastroller and a 4-stroke TOHATSU 6 HP (the more powerful 4-stroke single-cylinder engine available on the market, to keep the weight into manageable limits).
VARIOUS:
- foldable passerelle (useful when moored stern-to the quay)
- black-waters holding tank (mandatory in some countries and good-manners everywhere!)
- foldable mast steps (for easier climbing up)
More photos of the modification done aboard Shaula can be found here